DirkJan Ranzijn, 33 Years in Music- and Show-Business !!!
Born in 1968, thirty miles north of Amsterdam in a town called Alkmaar, Dirk enjoyed a secure family life. His father Leen was a painter and decorator and although not a musician himself supported his son during the early stages of his career. Dirk suggests music skipped a generation as his paternal grandfather's hobby was to play violin for the Royal Dutch Orchestra. He believes much of his talent could be attributed to his mother Lien and her family. Having come from a very musical family, her hobbies were singing in the church choir and performing in local musicals. In addition, two of his cousins are both professional musicians; while his uncle has appeared in films, advertising spots, and a number of plays on Dutch television. Dirk believes that he has inherited a sense of theatre and has performing in his blood when he considers family's link with entertainment over the years.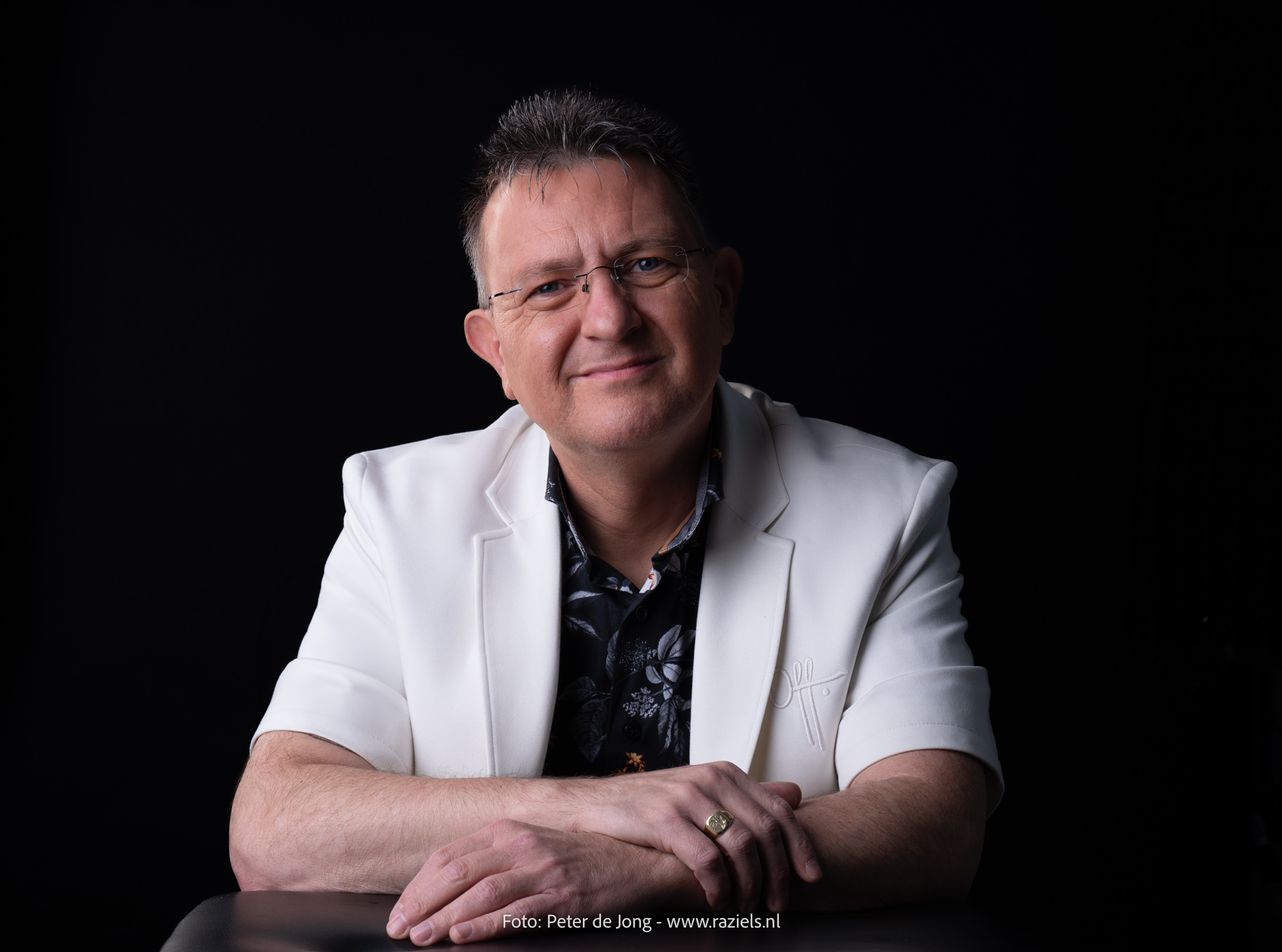 His family ensured this was nurtured as live theatre played an important part of Dirk's childhood. Being an only child his parents were able to indulge their son by introducing him to a variety of activities, including visits to the theatre, circus and musicals at a very early age. As early as four-years old Dirk admits to being excited by the applause, lighting effects and audience participation. He can never remember wanting to do anything else except appear in front of the footlight. At first the exact direction he should take was unclear, but he took every opportunity to participate as often as he could in the school theatre productions and musicals by singing and acting.
A significant milestone according to Dirk was when he was ten years old and met 'Sinterklaas', the Dutch aquivalent to our Father Christmas. However there is a subtle difference as Sinterklaas meets the children on December 5th to receive their list for gifts, which they hope to receive on Christmas morning. Fortunately Dirk did not change his mind as he requested and got his much wanted Bontempi keyboard. After about a week Dirk's father realised his son was playing 'Jingle Bells', this was followed a few days later by other simple tunes which Dirk had taught himself by ear. A teacher was quickly recruited to encourage the budding musician. After the first month it became apparent to both family and teacher the Bontempi was limiting Dirk's progress which prompted his parents into buying a 'Thomas' organ , introducing him to the delights of two manuals and a pedal board.
During those formative years Dirk received lessons from a number of teachers but he considers the two who had the greatest influence were Franz Oudhoff and Peter Rijs. According to Dirk, Peter excelled at jazz and was one of the best concert organists in Holland. In contrast Franz inclined more towards classical organ with only a hint of jazz. At the age of sixteen, Dirk gave his first charity concert, on the occasion he raised money in aid of arthritis sufferes; a condition his late father suffered. Professional concert work quickly followed even though he had not completed his education. The progress he made and the sheer enjoyment of performing live music, plus the audience's appreciation all helped guide him toward a career in music and show business.
Having left school at eighteen he went on to study for a Diploma in acting and music. The two-year course involved studying many dimensions of stage work including producing a brochure, acting, stage presentation, facial expression, lighting and many aspects of music. It is this unique training which may have influenced Dirk's style of organ playing and showmanship whether the show is produced for corporal events, societies or festivals. After gaining his diploma he continued to play professionally first using a Technics organ then the Wersi Spectra. In 1989 while using the Wersi Spectra he produced his first album in readiness for his first foreign tour. As the village of Heiloo is twinned with a village in Poland , it was not surprised that they invited him to take his show to Poland. Dirk expressed concern as he recalled the poverty he witnessed in Poland. He remembers having taken gifts of cheese for the villagers, how they would take a small piece of cheese , eat half and put the remainder in a paper tissue for later.
When telling me all about his tour he was visible touched by their plight and the hospitality he was given while over there. So much he almost omitted to tell me that he appeared on numerous of shows in theatres and churches as well on Polish Television.
After some years and three albums , Dirk changed his Wersi Spectra for a Bohm Diamond organ. By 1995 the Bohm Company in Germany invited him to join the team as a freelance concert artist. At the time the team included Robert Bartha and Mark Shakespeare. It was with great sadness that Dirk recalls the death of Mark and how he personally was affected. Following his visit to Germany that year he continued to work for Bohm alongside Robert. This has given him the opportunity to attend the Frankfurt Music Fair every year, playing as many as six concerts a day and concert tours all over Europe.
Like many musicians he remains freelance but in his words he has 'a gentleman's agreement', he will play Bohm exclusively. As a result his career has escalated to include annual concert tours of Belgium, Holland, Italy, Scotland, Wales, Poland, Denmark, Switzerland and the whole of the UK. During his concert in Bournemouth Dirk's informed the audience that he does not use sequencing and relies totally on a live performance using only his hands and feet with the addition of some rhythms.
Following his disclosure, we discussed his views on this very controversial subject. He believes to use pre-recorded backing or sequencing to enhance a performance 'in not honest'. He suggested he may be 'old fashioned', but he prefers to rely on his interpretation and the way he plays the music which he hopes is enhanced by his appearance through style of dress, body language and expression. Talking to Dirk' one can tell he has very strong views on the issue of multi-tracking, his concerns appear to be that audiences may be fooled into believing the artist is producing the music themselves; when in effect they are using in some instances their own performance, without admitting the performance is not totally live.
According to Dirk he was originally a very shy and private person and to this day he remains grateful for his father's encouragement and the rigorous training, which helped him overcome his inhibitions enabling him to appear on stage as a very confident artiste. Nevertheless, he has retained a more serious side as he told me he is an avid reader, especially books on religion and special meanings in life. As this is not Dirk's first concert tour in the UK we were able to compare the differences between the organ scene over here and in Holland. He considers we are fortunate in having the advantage of organ societies, and festivals, as there is no equivalent in Holland.
It has to be said that a show is never entirely a one-man affair. As an international artiste Dirk travels across Europe with the support of the Bohm team and is certainly no stranger to London Heathrow!! He has a great team behind him, in the UK, but also on Mainland Europe.
Dirk's current instrument is the Bohm Sinfonia 480, DJR Edition.
UPDATE !
In the meantime, Dirk's 26th solo album has been released and is already a great success. In 2012 Dirk had his big breakthrough on Danish television in a very popular Evening Show, this led to his own 2 hour TV show and a one hour documentary about his life and work in the Show Business. In 2015 Dirk was the 'Orchestra' during six Saturday Evening shows on Dutch Television. All together his television career spans over the 25 tv shows.
Outside the music, Dirk is a passionate amateur Photographer. His main interest is, of course, the world of the Circus. 20 years already Dirk has been photographing hundreds of Circus Shows, and his work has been used many times on the Internet, books, Souvenir Brochures, Bill-Boards, Flyers, etc..... In 2012 his first Circus Photo Book was released worldwide !
Altogether his television career spans over the 25 tv shows
DirkJan on Facebook